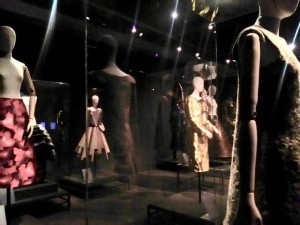 Firenze, Museo Salvatore Ferragamo, 19 maggio 2016 – 7 aprile 2017
By Makenzie Hall (Istituto Lorenzo de' Medici)
As a small, classic, renaissance architectural space, the Ferragamo Museum is unique and true to the label of high fashion. The exhibition 'Across Art and and Fashion' combines artistic innovation while giving visitors a sense of history in a creative way.
Native to Florence, Salvatore Ferragamo began creating distinctive stylish shoes in the United States before coming back to Florence and creating an iconic brand for himself. He designed shoes for the elite such as: Sofia Loren, Michael Jordan and the 'royal baby'. The museological space plays with the idea of art vs. artifact and classification while designated within fashion and artistry.
The museum opens with a dedication to Ferragamo's work displayed among a long table, decorated with shoes from different eras, styles and materials. The opening room is discussed in stylized shoe molds that give a sense of artistry and innovation to simple objects. The table is made an interactive work of art by connecting the shoes to a stylistic video demonstrating the era. It is almost a timeline that has been revamped for contemporary times to display Ferragamo's shoe collection.
Continuing in the museum, we become more acquainted with Ferragamo's collaborations with other artists and fashion icons across the decades. It gives visitors a sense of the relationship between fashion and art while again playing with the theme of art vs. artifact. This collaborative approach includes the ever iconic Andy Warhol and his eccentric persona as an artist. Warhol's personality was also included in his fashion sense which you can get a glimpse of in one of the rooms displaying large photographs of a cross-dressing Warhol.
Other important displays in the exhibit include a small but important nod to Florentine fashion that presents a simpler time of era of cost saving clothing created for the public during difficult times. Also, a tiny room with detailed mannequins' portray very vividly the display of printed Dutch clothing used by African culture. A ballerina posing on pointe is found holding two large barrel guns, a man extends an arm into the space of the viewer, and a small child seems about to take flight with attached wings. Although the exhibitions are extravagant and visually interesting, the ongoing theme of art vs. artifact grows deeper as culture is brought into fashion.
The Ferragamo museum plays to the sense of style and contemporary design in Renaissance Florence. With an apparent quality of status, the museum accentuates fashion through decades of time with a contemporary avant-garde approach. It is recommended to take the guided tour as there is a slight disconnect in the explanation of exhibition displays. Staff members give a much more informative and interesting tour than what can be achieved alone. Overall, this is a museum of stylistic taste conveying a connection to heritage and historic background among diverse cultures and time periods.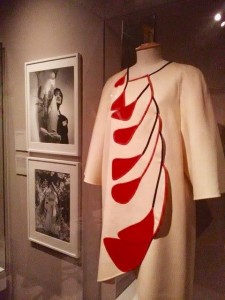 Traduzione di Tania Mio Bertolo (Università degli Studi di Firenze)
Grazie al suo piccolo spazio architettonico di sapore classicista e rinascimentale, il Museo Ferragamo si presenta unico nel suo genere ed allineato al gusto dell'alta moda. La mostra in corso intitolata Tra Arte e Moda unisce l'importanza dell'innovazione artistica alla necessità di far percepire al visitatore, seppur in chiave creativa, il senso della storia.
Originario di un paese vicino a Napoli, Salvatore Ferragamo principiò la sua carriera creando negli Stati Uniti delle scarpe uniche e di tendenza, per poi approdare a Firenze e fondare un proprio brand. Negli anni l'azienda ha disegnato calzature per noti personaggi come Sofia Loren, Michael Jordan e il piccolo George. Lo spazio museale gioca sulla contrapposizione tra arte e artefatto, mettendo in mostra oggetti pensati e creati unendo assieme eccellenza artigianale e sensibilità per la moda.
Il percorso museale principia con un omaggio alle calzature ideate da Ferragamo, disposte su un lungo tavolo e selezionate per diversità di stile, materiale e datazione. La prima sala presenta modelli stilizzati di scarpe, dai quali si percepisce sia la qualità artigianale che lo spirito innovativo impressi in semplici oggetti. Il tavolo stesso costituisce un'opera d'arte interattiva per mezzo della connessione tra le calzature in esso appoggiate ed alcuni schermi nei quali sono proiettati dei filmati che rimandano all'epoca storica di provenienza delle calzature medesime: si tratta quasi di una moderna linea del tempo, finalizzata a restituire sinteticamente il percorso cronologico dell'attività dell'azienda.
Proseguendo nel percorso museale, il visitatore diventa progressivamente più consapevole circa le collaborazioni attuate nel tempo da Ferragamo con artisti e icone di stile, aspetto che rimanda alla connessione tra arte e moda e che al contempo gioca ancora una volta con il contrasto tra arte e artefatto. In tale relazione è inserita la figura iconica di Andy Warhol, inteso sia come personalità eccentrica sia come artista. Fotografie di grande formato che ritraggono Warhol nei suoi migliori dress-code lo coinvolgono anche come indiscusso esempio di stile.
Una piccola ma importante sezione del percorso espositivo è dedicata alla moda fiorentina, ed in particolar modo a quei periodi di crisi economica nei quali furono proposti dall'azienda capi più economici. Vi è inoltre una piccola sala nella quale alcuni elaborati manichini vestono gli abiti confezionati con colorate stampe olandesi usate dalla cultura africana. Una ballerina sulle punte che sorregge due canne di pistola, un uomo che allunga il braccio verso lo spazio dello spettatore e un piccolo bambino che sembra spiccare il volo con ali incollate: nonostante tali installazioni siano già di per sé stravaganti ed interessanti anche soltanto alla vista, esse concorrono a sottolineare che il tema principale della contrapposizione tra arte e artefatto diventa sempre più convincente e profondo via via che la cultura e la moda permeano l'una nell'altra.
Il Museo Ferragamo gioca con il senso dello stile e del design contemporaneo in una città di sapore schiettamente rinascimentale. Con un'immagine elitaria solo apparente, il museo propone attraverso un approccio contemporaneo e avanguardista la storia della moda nel tempo. Per colmare le discontinuità didascaliche presenti nel percorso espositivo è consigliabile integrare la visita personale con le spiegazioni di una guida: l'aiuto dello staff permette al visitatore di avere tutte le informazioni mancanti e di godesi la mostra in un modo più completo ed esaustivo di quanto potrebbe fare da solo. Concludendo, il Museo Ferragamo è uno spazio espositivo di forte impatto stilistico nel quale confluiscono l'eredità ed il passato storico di diverse culture e periodi cronologici.