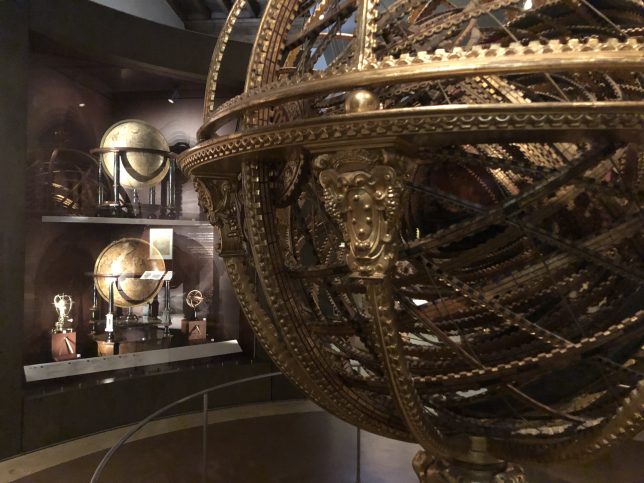 Museo Galileo
For inquisitive minds of all ages
By Marie-Claire Desjardin (Istituto Lorenzo de' Medici)
Open daily from 9:30 – 18:00
The Galileo Museum provides the opportunity for visitors to observe developments in scientific technology from the 16th to 20th centuries and witness various aspects of their practical application. It not only allows visitors a window into the past, but through their programming and didactic communication they are able to utilize modern technology to explain significant scientific advancements in Early Modern history.
As with so many of Florence's museums the permanent collection was founded by the Medici, beginning with Cosimo I (1519-1574) during the mid 16th century and enlarged by successive generations. It is organized dynastically and thematically as opposed to strictly chronologically allowing for similar objects spanning hundreds of years to be grouped together effectively highlighting developments in scientific technology. While the museum's collection boasts over 5,000 items, the current display showcases roughly 1/5th of the items allowing each the space for contemplation without overcrowding.
The museum encourages visitors to download a free application that provides basic information regarding operating hours and location while functioning as both an audio guide and map. This feature, available in both English and Italian, is supplemented by free WIFI allowing visitors without data to take advantage of the additional information conveyed through text and short videos on the application. The application allows the museum to effectively utilize current technology to communicate technology of the past.
The itinerary begins on the ground floor which houses display cases holding objects taken from the museum's vast deposit. Visitors are provided with a timeline illustrating the history of the collection with brief summaries of the most significant events from its inception until the last major rebranding in 2010. Pictorial representations punctuate the text aiding to accentuate pivotal moments in the museum's history including when the collection was first moved in 1930 to Palazzo Castellani, one of the oldest buildings in the city, and images of their historical displays which highlight the success of the museum's redesign.
The first floor of the museum holds the earliest objects collected by the Medici family and is divided thematically. The initial display, which includes both a traditional portrait of Ferdinando II (1610-1670) holding a compass while measuring architectural drawings as well as a curious anamorphic portrait of French production, has been decorated with yellow damask wall coverings acting to recall the princely spaces in which the instruments would have originally been displayed. It also includes a didactic video, an additional educational tool used throughout the museum in various locations, helping to illustrate the function of an astrolabe, a tool used by astronomers and navigators to determine latitude on land and sea. It would be used for measuring time, and to aid navigation, which was fundamental to the expansion and exploration of the known world.
The curatorial narration next leads visitors through a display devoted to terrestrial and celestial globes, the star piece of the collection being a Ptolemaic model of the universe created by cosmographer Antoni Santucci (?-1613) for Ferdinando I de' Medici (1549-1609) and to be housed in the Cosmographic Room in the Uffizi. The decorative scheme of the room, a darkened wood paneled space, creates an atmospheric effect recalling the Guardaroba Nuova of the Uffizi commissioned by Cosimo I, painted with detailed maps and conceived to house similar globes symbolically representing intellectual dominance over the known world.
The importance of geographical knowledge is emphasized in the two successive rooms dedicated to instruments used in navigation and for militaristic campaigns. The wall texts, displayed throughout the museum for those not using the application, explain the expansionist ambitions of the Medici both in Tuscany and in the New World.
Another key feature of the museum is a room devoted to its namesake, famed astronomer Galileo Galilei (1564-1642). It combines historical objects, including a framed lens used by Galileo himself and curiously a reliquary-like display of Galileo's finger, reproductions of several instruments, and video displays which communicate how the objects functioned and how the technology would have been applied contemporarily to its production.
The second floor is dedicated to the Lorraine dynasty and holds a series of graphic wax medical models from La Specola, where the scientific instruments were housed after its foundation as the Royal Museum of Physics and Natural History in 1775. This floor also contains the gargantuan experimental electric models used both for scientific discovery and for awe and entertainment in the 18th century court.
Before leaving the museum there is a space dedicated to interactive models, popular with children and adults alike, in which reproductions of the museum's displays can be used by visitors to further communicate the function of some of the instruments.
The Galileo Museum not only houses historical objects fundamental to the development of scientific technology in the western world, but creates an interactive space allowing for visitors to gain further understanding of their function and significance. Their application, descriptive videos, and narrative panels recount the history of science in Tuscany and beyond create an interactive and accessible experience for visitors of all ages.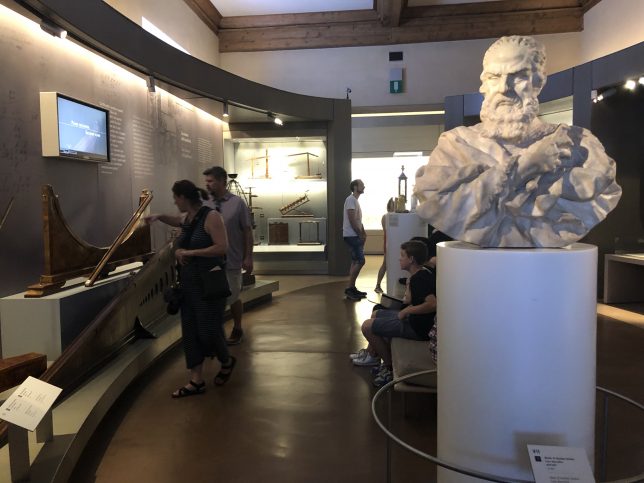 Museo Galileo
Per menti curiose di tutte le età
Di Marie-Claire Desjardin (Istituto Lorenzo de' Medici)
Aperto tutti i giorni dalle 9:30 – 18:00
Il museo Galileo offre ai visitatori l'opportunità di osservare gli sviluppi della tecnologia scientifica dal XVI al XX secolo e di poter osservare diversi aspetti della loro applicazione pratica. Non solo propone al pubblico una finestra sul passato, ma attraverso la sua programmazione e comunicazione didattica è in grado di impiegare la moderna tecnologia per spiegare significativi progressi scientifici della prima Età Moderna.
Come in molti musei fiorentini, la collezione permanente fu raccolta dai Medici, a partire da Cosimo I (1519-1574) durante la metà del XVI secolo e ampliata dalle generazioni successive. È ordinata seguendo le dinastie che si sono succedute a Firenze e tematicamente, invece di un ordinamento strettamente cronologico, permettendo a oggetti simili realizzati nel corso di centinaia di anni di essere raggruppati insieme evidenziando efficacemente gli sviluppi della tecnologia scientifica. Mentre la collezione del museo vanta oltre cinquemila oggetti, l'esposizione attuale presenta circa un quinto di essi assegnando a ciascuno il proprio spazio così che possa essere contemplato senza sovraffollamento.
Il museo incoraggia i visitatori a scaricare un'applicazione gratuita che fornisce informazioni di base per quanto riguarda gli orari e il luogo e funziona anche come un'audioguida e una mappa. Questa funzione, disponibile sia in inglese che in italiano, è favorita dal Wi-Fi gratuito che consente ai visitatori senza internet di usufruire delle informazioni aggiuntive trasmesse attraverso testi e brevi video sull'applicazione. Questa permette inoltre al museo di utilizzare efficacemente la tecnologia attuale per narrare la tecnologia del passato.
L'itinerario inizia al piano terra, dove si trovano teche che contengono oggetti selezionati dal vasto deposito del museo. Ai visitatori viene fornita una sequenza temporale volta ad illustrare la storia della collezione con brevi riassunti degli eventi più significativi, dalla sua nascita fino all'ultimo importante rinnovamento del 2010. Le rappresentazioni pittoriche accompagnano il testo aiutando a sottolineare i momenti cardine della storia del museo, compreso sia quando la collezione fu spostata per la prima volta nel 1930 a Palazzo Castellani, uno degli edifici più antichi della città, sia immagini degli allestimenti storici che evidenziano il successo della riprogettazione del museo.
Il primo piano conserva i primi oggetti collezionati dalla famiglia Medici ed è diviso tematicamente. Il primo ambiente, che comprende sia un ritratto tradizionale di Ferdinando II (1610-1670) con in mano un compasso mentre misura disegni architettonici, nonché un curioso ritratto anamorfico di produzione francese, è stato arredato con parati damascati gialli alle pareti che richiamano alla mente gli ambienti principeschi nei quali gli strumenti sarebbero stati originariamente esposti. Include anche un video didattico, un dispositivo educativo aggiuntivo utilizzato in tutto il museo in diverse postazioni, che contribuisce ad illustrare la funzione di un astrolabio, uno strumento impiegato da astronomi e navigatori per determinare la latitudine sulla terra e sul mare. Sarebbe stato utilizzato per misurare anche il tempo, e per aiutare la navigazione, che era fondamentale per l'espansione e l'esplorazione del mondo conosciuto.
L'allestimento conduce i visitatori attraverso una sala dedicata ai globi terrestri e celesti: il pezzo di punta della collezione è un modello tolemaico dell'universo creato dal cosmografo Antonio Santucci (?-1613) per Ferdinando I de' Medici (1549-1609) per essere ospitato nella Stanza della cosmografia agli Uffizi. Lo schema decorativo della sala, uno spazio rivestito in legno scuro, crea un effetto d'atmosfera che richiama la Guardaroba Nuova degli Uffizi commissionata da Cosimo I, dipinta con mappe dettagliate e concepita per ospitare simili globi che rappresentano simbolicamente il dominio dell'intelletto sul mondo conosciuto.
L'importanza della conoscenza geografica è sottolineata nelle due sale successive dedicate agli strumenti utilizzati nella navigazione e nelle campagne militari. I testi sulle pareti, esposti in tutto il museo per chi non utilizza l'applicazione, spiegano le ambizioni espansionistiche dei Medici sia in Toscana che nel Nuovo Mondo.
Un altro aspetto chiave del museo è una sala dedicata all'omonimo e celebre astronomo Galileo Galilei (1564-1642). Sono qui riuniti insieme oggetti storici, tra cui una lente incorniciata utilizzata dallo stesso Galileo e curiosamente una sorta di reliquiario con il dito di Galileo, riproduzioni di diversi strumenti e video che permettono di capire come gli oggetti funzionassero e come la tecnologia sarebbe stata applicata contemporaneamente per la loro produzione.
Il secondo piano è dedicato al collezionismo della dinastia dei Lorena e presenta una serie di modelli medici in cera provenienti da La Specola, dove gli strumenti scientifici sono stati ospitati dopo la sua fondazione come Reale Museo di fisica e storia naturale nel 1775. Questo piano contiene anche i giganteschi modelli elettrici sperimentali utilizzati sia per scoperte scientifiche che per destare stupore e intrattenimento nella corte del XVIII secolo.
Prima di lasciare il museo, è presente uno spazio dedicato ai modelli interattivi, popolari tra i bambini e gli adulti, in cui le riproduzioni degli oggetti esposti nel museo possono essere utilizzate dai visitatori per comprendere ulteriormente la funzione di alcuni degli strumenti.
Il museo Galileo non solo ospita oggetti storici fondamentali per lo sviluppo della tecnologia scientifica nel mondo occidentale, ma crea uno spazio interattivo che consente ai visitatori di capire profondamente la loro funzione e il loro significato. La sua applicazione, i video descrittivi e i pannelli esplicativi raccontano la storia della scienza in Toscana e oltre, offrendo un'esperienza interattiva e accessibile ai visitatori di tutte le età.
Traduzione di Camilla Torracchi (Università degli Studi di Firenze)
Photo Courtesy Marie-Claire Desjardin (Istituto Lorenzo de' Medici)