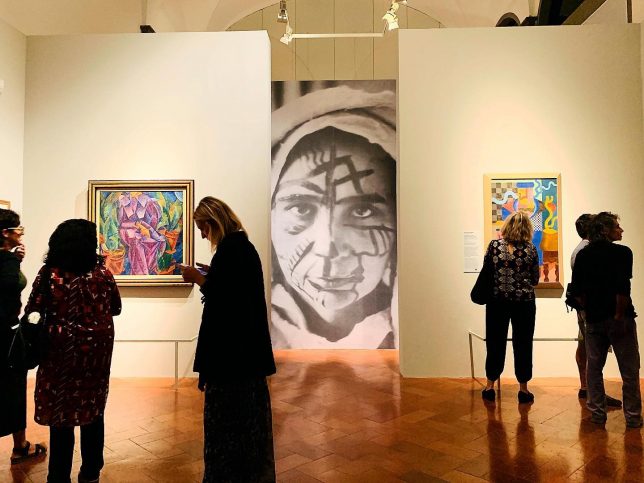 Natalia Goncharova's Life: From Russia to Paris
By Isabella Pircio (Istituto Lorenzo de' Medici)
Exhibition Dates: 28 September 2019 – 12 January 2020
Daily: 10:00 – 20:00
Thursday: 10:00 – 23:00
The recently inaugurated exhibit titled "Natalia Goncharova with Gaugin, Matisse, and Picasso" has been creating buzz around the city of Florence. Located within Palazzo Strozzi, the exhibition commemorates the artist Natalia Goncharova in an innovative exhibit, offering visitors a unique window onto the life of the revolutionary Russian avant-garde artist. Fusing traditional Russian iconography with Western modernity, depression from the First World War, and the endless artistic innovation at the time, Goncharova's art is a natural consequence of her life experiences. Ultimately, Goncharova's art provides the perfect medium for visitors to immerse themselves in her life. The exhibition, curated by Ludovica Sebregondi and Matthew Gale, is specifically organized to transport the visitor back in time to "Natalia Goncharova's Russia", her voyage throughout Europe during the First World War, and her last residence in Paris.
Visitors begin their journey with a biography of Goncharova, presented through the painting titled "Portrait of Natalia Goncharova" (1907) by Mikhail Larionov, accompanied by photographs, quotes, and brief introductory texts in English and Italian. Natalia Goncharova, the first modern woman artist to be showcased in a monographic exhibition at Palazzo Strozzi, is represented in all her artistic passions: as a painter, costume designer, illustrator, graphic artist, set designer, decorator, stylist, and actress.
As viewers continue through the exhibit, they are presented with paintings by Paul Cézanne, Paul Gaugin, Henri Matisse, and Pablo Picasso, who each deeply influenced Goncharova as a developing artist. Visitors may be expecting a stronger presence from these artists because of their place in the exhibition name; although, it is quite limited. Having provided specific examples of Goncharova's inspirations, Palazzo Strozzi presents a unique opportunity for viewers to compare the development of her artistic style and technique. Displaying Goncharova's artwork separately from those of her influencers allows for visitors to engage in a personal and intimate comparison, comfortably within individual levels of complexity. However, this manner of exhibiting may not directly engage the majority of visitors to participate in the intended discourse.
Later in the exhibit, Giacomo Balla and Umberto Boccioni are both displayed within the context of "Goncharova and Italy" accompanied by Goncharova's oil on canvas titled "Cyclist" (1913), and watercolor collage "Four Evangelists" (1916). Goncharova's experimentation of style and technique becomes quite visible in the company of Boccioni's "Dynamism of a Cyclist" (1913) and "The City Rises" (1913). It is no coincidence that Goncharova's art was previously displayed and collected with paintings by Giacomo Balla, Mikhail Larionov, Henri Matisse, and Pablo Picasso.
Visitors walk through a well-organized space, accompanied by labels, wall panels, and quotes from Goncharova available in both Italian and English. The exhibition space is adorned with bold colors, patterns, and decorations from Goncharova's art, creating a consistently vibrant environment that is reflective of the energy and creativity in Goncharova's art. Footage of Natalia Goncharova is shown at multiple points in the exhibit, creating a unique connection between the artist and the viewer. Palazzo Strozzi also provides a multitude of resources for all that are interested in learning more in the Reading Room. Audio guides are offered in English and Italian, at an additional cost. There is also a specially made audio-guide for children. Guided tours of the exhibition are available, designed for both adults and children. For any visitor that is interested in sketching or taking notes, a Drawing Kit is available free of charge at the Info Point, providing a pencil, manual, and additional suggestions.
Palazzo Strozzi is ADA accessible; elevators are accessible throughout the museum. Visitors can take advantage of the various seating that is located throughout the exhibition. Wheelchairs are also obtainable to those who request them, a beneficial feature for those who are traveling.
By exploring the life of an unconventional artist through this exhibition, visitors are transported from Florence and guided through a journey from Russia to Natalia Goncharova's last days in Paris. Highlighting not only Goncharova's masterpieces but, providing viewers with a window into her life, as well as the art that inspired her, creates a highly engaging experience. Located in the heart of the Renaissance, the exhibition "Natalia Goncharova with Gaugin, Matisse, and Picasso" is a beautifully atypical experience available until January.
Photo Courtesy Isabella Pircio