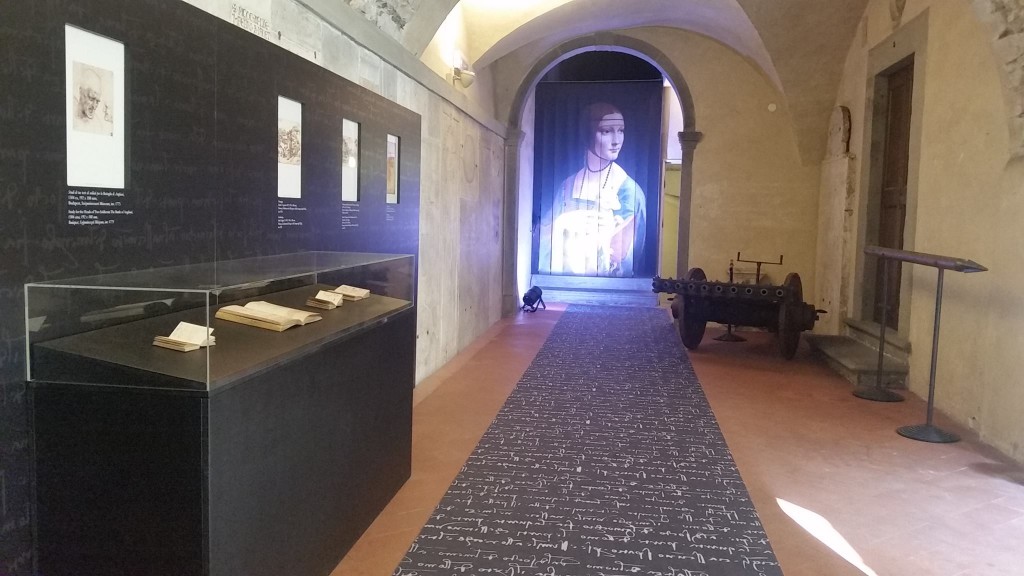 Ex chiesa di Santo Stefano al Ponte, Firenze
13 maggio – 6 ottobre 2017
By Katherine Reaume (Istituto Lorenzo de' Medici)

Upon entering the street to Santo Stefano, visitors are greeted by Da Vinci himself and one of his machines. Open from May 13th to October 6th, every day from 10 am until 7:30 pm, the signs advertise not only an experience but also his real machines. As one of the most popular artists who worked in Florence during the Renaissance, there have been many exhibitions created regarding Da Vinci. Unfortunately, this exhibition seems to be lacking in knowledge about Da Vinci himself. Upon entering the exhibition, a row of books, also known as his codices is on display without any specific information provided about them. An information panel explains some background information about what the codices are generally, but no detailed information regarding the books on display are provided.
There are also prints of some of his more famous sketches displayed with the location where the originals can be found. Yet, there is no correlation drawn between these sketches and the books on display. Interestingly though, the carpeted pathway which leads visitors through the exhibition has a print of a replication of Da Vinci's writing. Creating a path to follow downstairs, it is here that visitors experience some of Da Vinci's machines.
The machines on display are replications from his sketches, and their purpose is explained in an informational label. It is also in this space that visitors get to experience Da Vinci's machines virtually. Three headsets are set up for viewing along with a chair and a short explanatory panel. The virtual reality experience allows visitors to enter three of Da Vinci's sketches and see the machines come to life, which is a unique aspect of this exhibition. Providing chairs that swivel around allow the user the opportunity to explore in this experience safely without the fear of falling.
The final part of this exhibition is a movie-like experience which is found upstairs. Multiple screens are setup to display various images of different sections of one of Da Vinci's works at a time. The movie transitions from paintings to sketches of machines and quotes using things like birds and wisps of smoke. These transitions are also used to capture and focus a visitors' attention in on a single part of the painting shown, such as flowers or hands. The video is enhanced through the use of music, but the transition between classical music and a movie-like soundtrack can be a bit jarring.
Overall if you are looking to see some video of Da Vinci's famous works of art and have an 'experience' virtually with his machines in motion, this is the exhibition for you. If you are looking for information regarding him as a person, artist, or inventor, there is little here to offer to you in your quest.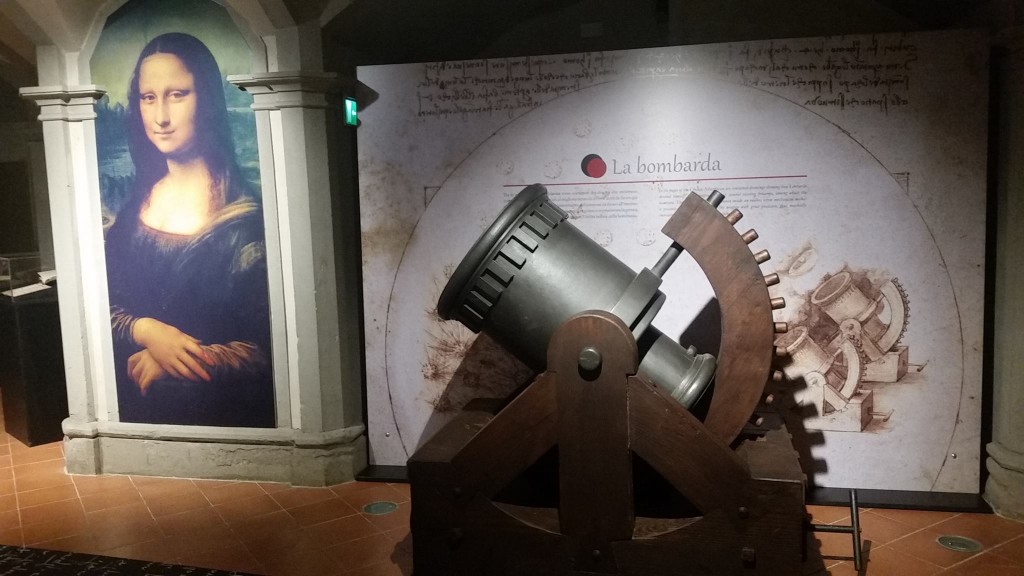 Traduzione di Tania Mio Bertolo (Università degli Studi di Firenze)

All'imbocco del piazzale antistante l'ex chiesa di Santo Stefano al Ponte i visitatori sono accolti dallo stesso Leonardo Da Vinci e da una delle sue macchine ingegneristiche. La mostra, inaugurata il 3 maggio e visitabile fino all'8 ottobre ogni giorno dalle 10:00 alle 19:30, è introdotta da manifesti che rendono nota non soltanto l'esperienza virtuale che la caratterizza, ma anche le reali macchine progettate dall'artista visibili al suo interno.  Numerose sono state le esposizione dedicate di recente a Da Vinci, considerato uno tra gli artisti più importanti che operarono a Firenze nel Rinascimento. Sfortunatamente questa mostra sembra essere lacunosa nella possibilità che essa stessa offre di conoscere la figura di Leonardo. All'ingresso una pila di libri noti come i suoi codici sono in mostra senza che sia fornita alcuna specifica indicazione su di essi: si trova soltanto un pannello che li descrive approssimativamente, ma non vi sono informazioni dettagliate.
Sono inoltre esposte delle stampe di alcuni suoi noti progetti, e per ciascun originale è segnalato l'attuale sito conservativo; ma non è indicata la relazione che intercorre tra tali schizzi progettuali ed i codici esposti. Degno di nota è il tappetto che scorre sul percorso che conduce verso la sala espositiva principale, tappetto nel quale è ristampata la calligrafia originale dell'artista. È nell'imboccare questo percorso suggestivo che i visitatori vengono condotti al livello inferiore, dove finalmente prenderà vita la loro esperienza virtuale con le macchine progettate da Leonardo Da Vinci.
Le opere ingegneristiche in mostra sono riproduzioni dei suoi disegni progettuali, ed il loro funzionamento è esplicitato in una targhetta informativa. All'interno di questo stesso spazio espositivo è ricreata l'esperienza virtuale con le macchine di Leonardo, godibile accomodandosi in una delle tre sedute dotate di cuffie auricolari e breve pannello esplicativo. L'esperienza virtuale consente al visitatore di entrare realmente in alcuni dei disegni progettuali di Da Vinci e vedere le macchine diventare vere, cifra principale della mostra. Le sedie sono rotanti, questo permette al visitatore di godersi l'esperienza con estrema sicurezza senza temere di cadere.
Al piano superiore è disposta l'ultima sezione della mostra: le multiproiezioni in video mapping. Numerosi schermi proiettano varie immagini delle diverse parti di alcuni dei capolavori artistici di Leonardo. Il filmato spazia dai dipinti ai progetti ingegneristici usando immagini di transizione come uccelli e nuvole di fumo. Ciò permette di catturare e focalizzare l'attenzione del visitatore su una singola parte del dipinto mostrato, come fiori o mani. Il video è accompagnato da un sottofondo musicale che alterna musica classica e colonna sonora, creando un effetto un po' discordante.
In conclusione, questa è la mostra adatta a chi è in cerca di un filmato sulle più note opere d'arte di Da Vinci e di un'esperienza virtuale con le sue macchine ingegneristiche in movimento. Per coloro i quali sono invece in cerca di informazioni inerenti Leonardo come persona, artista e genio, c'è molto poco in questa mostra che possa venire in loro soccorso.