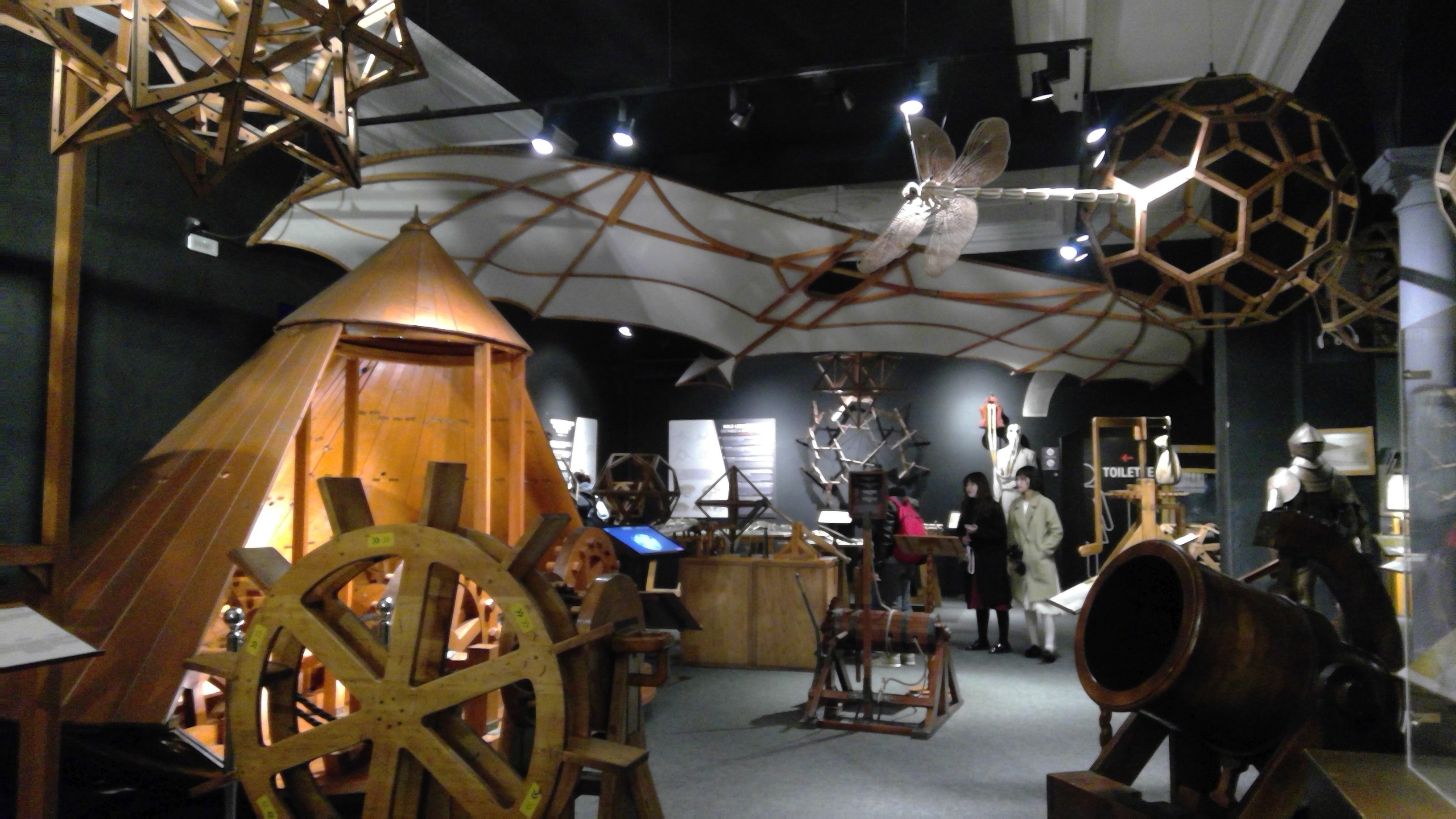 The Leonardo Interactive Museum "Exhibit dedicated to the Genius and Legend of the Renaissance"
By Kaitlin Phillips (Istituto Lorenzo de' Medici)
Edited by Isabella Pircio (Istituto Lorenzo de' Medici)
Via de Servi 66 (FI) 50122
Leonardo's five hundredth anniversary was recently celebrated in Florence and around the globe. Often referred to as the face of the Renaissance, Leonardo's artwork, a plethora of inventions, scientific research, and much more have been displayed and exhibited for centuries. The Leonardo Interactive Museum offers a surprisingly unique experience, focusing on personal and engaging visitor experiences. Located just blocks away from the Duomo, Leonardo Interactive Museum invites visitors to not only experience, but engage with a true Renaissance Man. Showcasing intricate and precise life-sized models seized from various drawings of the renowned Italian Master, a visit to Florence's Leonardo Interactive Museum quite literally feels like walking into one of Leonardo's sketchbooks.
Upon entry, the visitor is greeted to a secluded dark room encompassing various exhibits, each cradled by a soft, warm light that feels overall inviting. The size of the institution itself is small; however, the displays are organized effectively and allow visitors to move around freely and interact with the exhibits in a candid, organic manner. The museum is divided thematically; visitors will find the architectural and flying machines presented together front and center, while the art-based exhibit has a private back room. The main room contains over fifty life-size models directly from Leonardo's sketches and notes. Visitors are encouraged to touch and interact with the displays that have been constructed for interaction, in a city that rarely offers this unique opportunity. Each display is accompanied with an exploratory label written in Italian, English, Spanish, French, and Russian! Wall texts and labels are written clearly, engaging even the youngest of visitors. Audio guides are also available in the five languages previously mentioned. One of the most enjoyable aspects of this museum is the build-it-yourself model stations and workshops. Here, guests of all ages are invited to reconstruct the various bridge and shape designs from Leonardo's sketchbooks. In this way, visitors are not only invested in his designs but can connect with his works on a more personal level.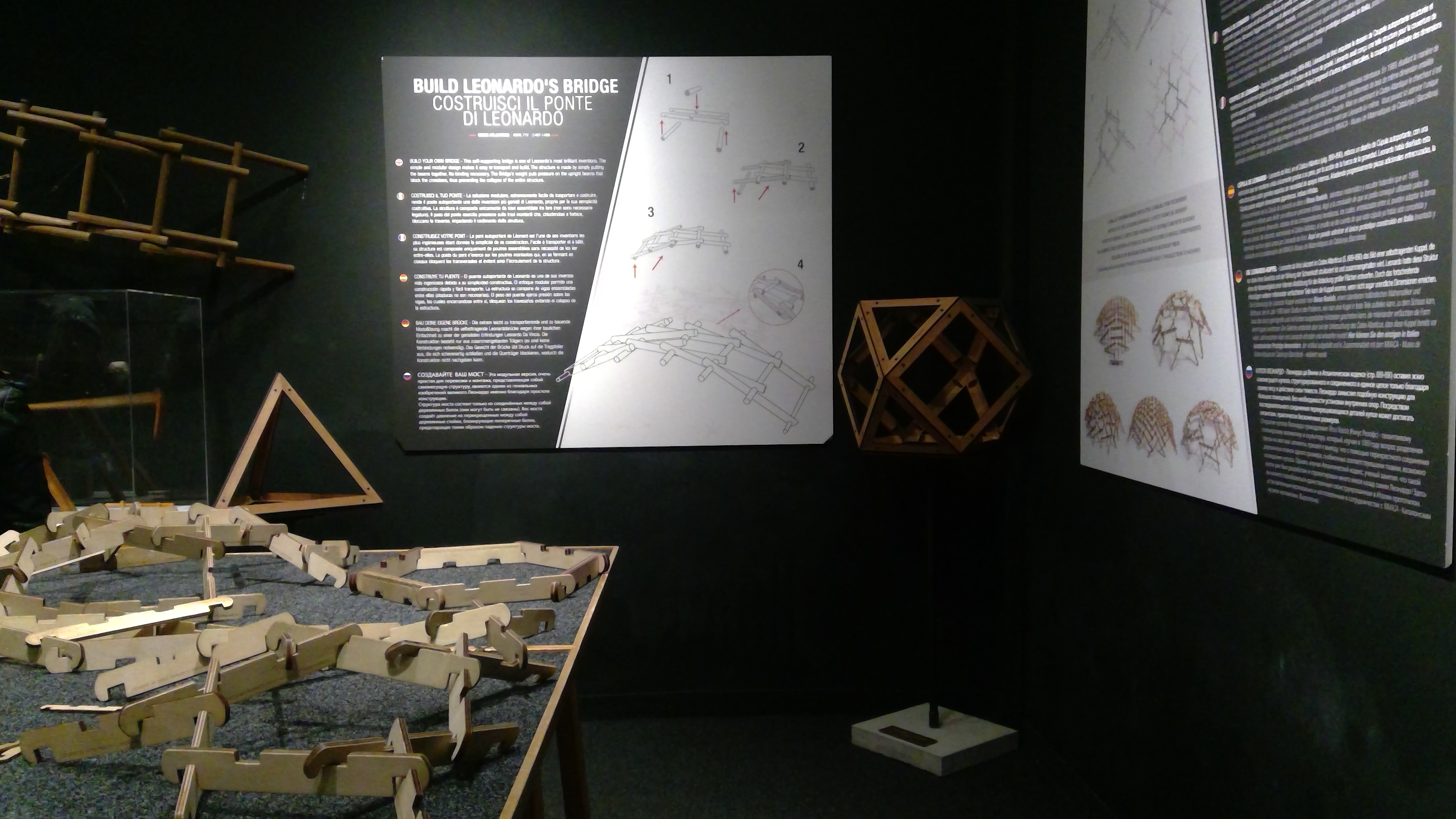 The diversity of Leonardo's interests is also wonderfully reflected in the displays of this museum, allowing it a genuinely natural chance to appeal to a variety of people. For instance, while those interested in war-fare technology can peer inside a replica of one of Leonardo's tank designs, while someone more interested in his flying machines can find amusement operating a model of one of his wings. The massive flying machine models alone can invoke a child-like wonder from visitors of all ages. The immersive experience takes visitors into the world of Leonardo and offers a uniquely personal experience that may be difficult to find elsewhere.
Past the Main Room, visitors will find themselves admiring high resolutions of Leonardo's masterpieces in the Painting Room. Works of art such as the Mona Lisa and the Last Supper are reproduced and displayed for guests to experience. The reproduction of masterpieces such as these could diminish the impact of the original work; however, it does allow visitors to intimately engage in the works in a manner that is impossible with the canvases.
While the content of the museum may be more on a beginner level when it comes to Leonardo's extensive biography and life's work, even veterans to the topic will appreciate the mass amount of effort and detail put into the models. The Leonardo Interactive Museum has created a truly inviting and interactive environment for visitors of all ages to discover the world, and the mind of Leonardo da Vinci, right in the heart of Florence.
The Leonardo Interactive Museum is an institution that displays hands on exhibits and life size models of Leonardo Da Vinci's designs. Its mission is to teach a broad audience about the inventions and interests of Leonardo Da Vinci including but not limited to anatomy, art, aviation innovations, infrastructure, military technology, and musical instruments.
It was originally founded in 2004 by the Niccolai, a wood-making Florentine family. When trying to identify an owner or director of this museum, no information was available online, and the museum staff themselves were not sure.
Photo courtesy Kaitlin Phillips