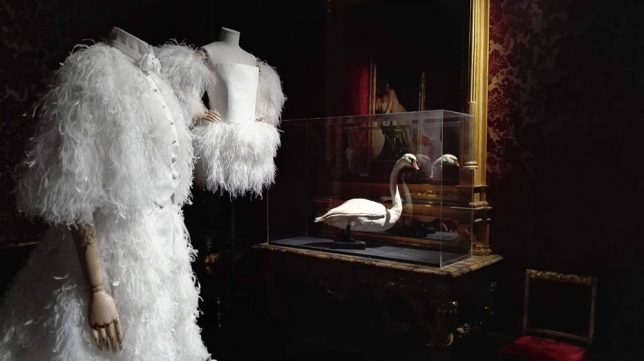 Animalia fashion
A Zoo at Palazzo Pitti 
Museum of Costume and Fashion, Palazzo Pitti, Florence
8 January – 5 May 2019
By Federica Borselli (Università di Firenze)
Insects, birds, shells, coral, reptile, common mammals and crustaceans: the animal world is an inexhaustible source of inspiration for fashion designers. It is Precisely this bond between the animal word and contemporary fashion is examined in the exhibition Animalia Fashion, curated by Patricia Lurati, currently exhibited at the Museum of Costume and Fashion at Palazzo Pitti, open until the 5th of May 2019. Approximately a hundred master works of Haute Couture, created between 2000 and 2018, that in shape, textile or color recall the most surprising species of animals are being exhibited amongst the elegant rooms of the House of the Meridian.
These marvelous dresses, shoes, purses and jewellery, on loan from the most celebrated fashion houses and emerging designers, are brought together in the 18 rooms with taxidermy animals, preserved insects, reptiles immersed in formaldehyde, reproductions of drawings from ancient bestiaries and medieval tacuina sanitates giving life to the suggestive idea of a 'cabinet of curiosities'.
The House of the Meridian, beside the southern wing of Palazzo Pitti, bares traces in the furnishing and decorative scheme of all of the previous dynasties, from the Lorena to the Savoy, passing through the regency of Maria Luisa of Borbone Parma and the brief reign of Elisa Baciocchi.
The exhibition creates a suggestive and fascinating journey that invites the visitor to reflect on the wonders of the universe and the surprising creativity expressed by the biggest names in fashion, including Chanel, Valentino, Prada, Christian Dior, Jean Paul Gautier, Dolce & Gabbana, Roberto Cavalli, Armani, Emilio Pucci, and Yves Saint Laurent.
The relationship established between fashion houses and animals is investigated poetically. It engages with a moment in which climate change and the decline in interest from global superpowers surrounding problems with the environment puts many species at risk, as is outlined in an accompanying text, written in both English and Italian, included in the exhibition. Each room includes a panel with important attributing information for every item on display, but unfortunately the only information provided for the clothing and accessories is the attribution of the designer and the year of the collection; no information regarding the materials and techniques used for their production is included.
After an introductory panel, also translated into English, the zoological catwalk opens with an imposing black dress designed for Maison Margiela by John Galliano recalling the rotund shape of a tarantula, accompanied by a large case filled with spiders from the Italian Arachnology Association. The theme of spiders continues as visitors enter the second room, where a spiderweb, with its spider included, becomes part of an evening dress by Maison Schiapparelli.
The third room is transformed into a sparkling pond with the feathered creations of Karl Lagerfeld for Chanel, Saint Laurent by Anthony Vaccarello, Ralph & Russo, Dolce & Gabbana and the presence of a majestic stuffed swan, one of the many items of loan from the Florentine Museum of Natural History La Specola.
Karl Lagerfeld's designs for Chanel invoke the spiral form and iridescence of a nautilus shell creating an elegant clutch that in the exhibition is displayed, creating an amusing confrontation, together with a XVI century goblet from the Treasury of the Grand Dukes realized with an authentic nautilus shell on a metal base.
The stinging quills of a hedgehog, on the other hand, are paralleled with a creation by Iris van Herpen, a very short total black dress with a polished sleeveless bodice and a skirt covered with strips of semi-rigid material curving upwards.
The depiction of a gutted fish, a miniature reproduction by Giovanni de' Grassi taken from the Historia Plantarum, is used as a background for four sparkling dresses, among them a Prada mini dress whose colored plexiglass circles imitate the shining fish scales.
A flock of stuffed parrots accompanies a regal Dolce & Gabbana dress, with a full skirt and short bubble sleeves, totally covered in brightly colored feathers. In the twelfth room snakes immersed in formaldehyde blend with the precious 'Cobra' coller by Roberto Coin or with the golden snake climbing the nude back in Roberto Cavalli's timeless creation. A dreamlike and timeless fashion show in a natural history museum with elegant seventeenth century furnishings is what awaits visitors among the Meridian Rooms of Palazzo Pitti.
Translated by Marie-Claire Desjardin (Istituto Lorenzo de' Medici)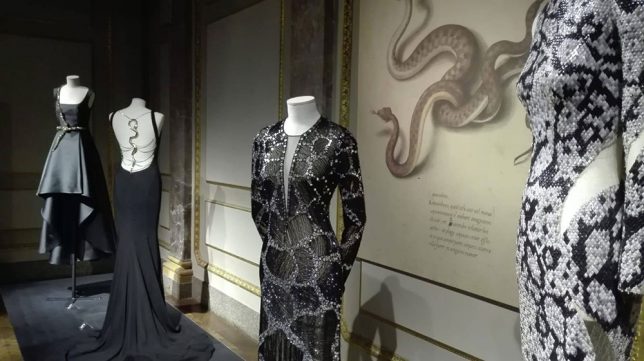 Animalia fashion
Uno zoo a Palazzo Pitti
Museo della Moda e del Costume, Palazzo Pitti, Firenze
8 gennaio – 5 maggio 2019
di Federica Borselli (Università di Firenze)
Insetti, volatili, pesci, conchiglie, coralli, rettili, mammiferi comuni e crostacei: il mondo animale è un'inesauribile fonte d'ispirazione per gli stilisti. Proprio questo legame tra mondo animale e moda contemporanea è indagato nella mostra Animalia Fashion, a cura di Patricia Lurati, attualmente in corso presso il Museo della Moda e del Costume di Palazzo Pitti e visitabile fino al 5 maggio 2019.
Nelle eleganti stanze della Palazzina della Meridiana sono esposti circa cento capolavori di haute couture, creati tra il 2000 e il 2018, che nelle forme, nei tessuti o nel colore richiamano le più sorprendenti specie animali.
Questi meravigliosi abiti, scarpe, borse e gioielli, in prestito dalle case di moda più celebri e da stilisti emergenti, convivono nelle 18 sale con animali impagliati, insetti dentro teche, rettili immersi nella formaldeide o riproduzioni di disegni tratti da antichi bestiari e da tacuina sanitatis medievali dando vita ad un ideale e suggestivo "cabinet de curiosités".
La Palazzina della Meridiana, addossata all'ala meridionale di Palazzo Pitti, porta traccia nell'arredamento e nell'apparato decorativo di tutte le dinastie che vi si sono succedute, dai Lorena ai Savoia passando attraverso la reggenza di Maria Luisa di Borbone Parma e il breve regno di Elisa Baciocchi.
L'allestimento dà vita a un suggestivo e affascinante percorso che invita il visitatore a riflettere sulle meraviglie dell'universo e sulla sorprendente creatività espressa dai grandi nomi della moda, tra cui Chanel, Valentino, Prada, Christian Dior, Jean Paul Gautier, Dolce & Gabbana, Roberto Cavalli, Armani, Emilio Pucci, Yves Saint Lauren.
Il rapporto che la moda instaura con gli animali è indagato in modo poetico ma anche impegnato in un momento in cui i cambiamenti climatici e un calo d'interesse delle superpotenze per i problemi dell'ambiente mettono molte specie in pericolo, come sottolinea un pannello, con testo in italiano ed inglese, presente in mostra. In ogni sala è presente un cartellino con riportati i dati principali per ogni oggetto esposto, per quanto riguarda abiti e accessori sono indicati il nome dello stilista e l'anno della collezione; mancano, purtroppo, informazioni sui materiali e sulle tecniche di lavorazione.
Dopo un pannello di introduzione, anche questo tradotto in lingua inglese, apre la passerella zoologica un imponente abito nero di Maison Margiela by John Galliano che richiama la forma rotondeggiante della tarantola, fronteggiato da una grande teca popolata di ragni in prestito dall'Associazione Italiana di Aracnologia. Il mondo degli aracnidi è ancora protagonista della seconda sala, dove una ragnatela, con annesso ragno, diventa parte stessa dell'abito da sera della Maison Schiapparelli.
La terza sala si trasforma in uno stagno scintillante con le creazioni dal candido piumaggio di Karl Lagerfeld per Chanel, Saint Laurent by Anthony Vaccarello, Ralph & Russo e Dolce & Gabbana e con la presenza di un maestoso cigno impagliato, uno dei tanti prestiti concessi dal Museo fiorentino di Storia Naturale La Specola.
Karl Lagerfeld per Chanel riprendere la forma a spirale e l'iridescenza della conchiglia del nautilus creando un elegante clutch che in mostra viene esposta, generando un diverte confronto, insieme ad una coppa del XVI secolo proveniente dal Tesoro dei Granduchi realizzata con un vero guscio di nauntilus montata su una base di metallo.
Ai pungenti aculei del riccio rimanda, invece, la creazione di Iris van Herpen, un abito total black molto corto con corpino lucido senza spalline e con gonna ricoperta da strisce di materiale semi-rigido curvate verso l'alto.
La raffigurazione di un pesce sventrato, riproduzione di una miniatura di Giovanni de' Grassi tratta dall'Historia Plantarum, fa da sfondo a quattro sfavillanti abiti, tra cui un mini dress di Prada in cui i colorati cerchietti di plexiglass richiamano le lucide squame del pesce.
Uno stormo di pappagalli impagliati accompagna il principesco abito di Dolce & Gabbana, con ampia gonna e maniche corte a palloncino, totalmente ricoperto di coloratissime piume. Nella dodicesima sala i serpenti immersi nella formaldeide si confondono con il prezioso collier "Cobra" di Roberto Coin o con il serpente dorato che risale la nuda schiena nella creazione senza tempo di Roberto Cavalli.
Una onirica e mirabolante sfilata di alta moda in un museo di storia naturale con elegante mobilia ottocentesca, ecco cosa attende il visitatore nelle sale della Palazzina della Meridiana di Palazzo Pitti.
Photo courtesy Federica Borselli