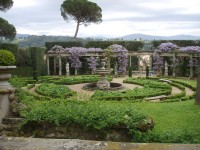 By Emma Montross (Lorenzo de' Medici)
Villa la Pietra came into New York University (NYU) possession in 1994, bequeathed by Sir Harold Acton upon his death. Since then, the University has dedicated the five historic villas on the fifty-seven acres of the property to housing and academic study for NYU students studying abroad in Florence.
A place to call home and study, however, are not the only areas dedicated to space interaction on the property. Located directly behind the main house is the exquisite La Pietra Garden, a previously 19th century English garden reconstructed to 16th century Italian style with a couple of modern twists. In addition to having over 180 sculptures in the garden and a stunning view of Florence, the garden also has a man-made natural stage.
Upon entering this room of the garden (Italian gardens are intended to be considered extensions of the house), one can tell that this space was created for the specific use of theatrical entertainment. A flat grassy area for seating is sectioned off by a stonewall. Small bushes that could easily be interpreted as opera floor lights line the stage. Four tall hedges line each side of the area to simulate curtain wings.  In the back there is a staircase leading up to another level of the garden creating depth, perspective, and undoubtedly an ideal spot for a monologue. The space perfectly provides a stage for a show, nature blending into art. However, and most unfortunately, the main draw back with this wonderful and inventive space is the lack of public access.
A private academic institution owns Villa la Pietra, and it is within the school's right to monitor and maintain the flow of people that come in and out of the property. To go through the garden an appointment must be made in advance unless it is one of the few times in the year that the compound opens its doors to the public. To witness a show on the garden stage, one must be invited onto the property. For such an innovative Italian Renaissance-style garden with a unique installation, it seems a shame that select people are able to witness a garden show. The space is ripe with potential to create a truly unreal experience.
It may be that exclusivity is part of the Villa's main goal and appeal for the garden. Gardens by nature are meant to invite and envelop the visitor into a different kind of world than usual. La Pietra Garden achieves this wonder through a strict maintenance regime and a respect for Acton's original intentional use for the garden. Like any worthwhile Italian garden, La Pietra's architectural landscape design follows that set by the house itself. Inside the main house, one room blends into the next with a natural progression of rooms obviously thought out. In the garden itself this is done through the blending of strict lines (perfectly cut path ways and manicured bush arches) with the irregularity and uncontrollable aspect of nature (not every flower or stone is specifically set). There is a sense of theatricality in this garden, but not present through any one specific detail. The air of the garden, like any kind of Italian Renaissance garden, cannot be simply explained. Hopefully in the future Villa la Pietra will open its doors more frequently to allow others to experience an excitement that not many associate with topography.
To make a reservation to visit Villa la Pietra's garden, please visit the NYU website:
http://www.nyu.edu/global/lapietra/visitor.information
 Il teatro verzura di Villa la Pietra
Villa la Pietra è diventata proprietà della New York University (NYU) nel 1994, grazie al lascito a seguito della morte di Sir Harold Acton.
Da quel momento l'Università ha dedicato la storica villa cinquecentesca con i suoi 56 acri di proprietà ad ospitare e agli studi accademici degli studenti della NYU che vivono a Firenze.
 Un posto da chiamare casa e dove studiare non è l'unico scopo a cui sono dedicati gli spazi della proprietà.
Localizzato subito dietro l'edificio principale c'è il raffinato giardino di Villa la Pietra, inizialmente parco all'inglese del XIX secolo, è stato modificato in un giardino all'italiana del XVI secolo con un paio di spirali moderne. Oltre alla presenza di più di 180 sculture e una vista mozzafiato su Firenze il giardino presenta un palcoscenico naturale realizzato dall'uomo.
Entrando in questa parte del giardino (i giardini italiani vengono intesi come se fossero un estensione della casa) si può credere che questo spazio sia stato creato appositamente per gli spettacoli teatrali.
Una zona erbosa e pianeggiante per le sedute è ricavata da un muro di pietra. Piccoli cespugli  possono essere facilmente interpretati come le luci a terra che illuminano il palcoscenico. Quattro alte siepi allineate su ogni parte simulano le quinte. Sul retro  c'è una scalinata che porta ad un altro livello del giardino creando la profondità e la prospettiva e un luogo idealmente perfetto per un monologo. Lo spazio fornisce un perfetto palcoscenico per uno spettacolo, la natura che diventa arte. Tuttavia, anzi sfortunatamente, il più grande svantaggio è che questo meraviglioso e ingegnoso spazio è vietato all'accesso del pubblico.
Una istituzione accademica privata possiede Villa la Pietra, ed è proprio all'interno della scuola per monitorare e gestire il flusso di persone che fluiscono dentro e fuori dalla proprietà. Per visitare il giardino è necessario prendere appuntamento in anticipo a meno che non sia una delle rare volte l'anno che il giardino apre le sue porte al pubblico. Per assistere ad uno spettacolo sul palcoscenico del giardino si deve essere invitati nella proprietà. Per un così innovativo giardino in stile italiano-rinascimentale con un installazione unica è un peccato che solo persone selezionate possano assistere allo spettacolo del giardino. Il posto ha le potenzialità per creare una esperienza davvero surreale.
Questa esclusività fa parte del principale obiettivo della Villa e decreta  il fascino per il giardino.
I giardini per natura sono destinati ad invitare ed avvolgere il visitatore in un mondo diverso rispetto al solito. Il giardino di Villa la Pietra raggiunge questa meraviglia attraverso un regime di controllo rigoroso ed  il rispetto per l'uso originale del giardino di Sir Acton.
Come ogni giardino italiano, la progettazione del paesaggio architettonico di La Pietra va di pari passo con quella della casa stessa.
Nella casa principale una stanza si fonde nella successiva con una naturale progressione di sale ovviamente ragionata.
Nel giardino questo stesso elemento viene ripreso attraverso la fusione di linee rigorose ( i percorsi    sono perfettamente curati e delineati con cespugli ad arco) con l'irregolarità e l'incontrollabile aspetto della natura ( non tutti i fiori o le pietre sono posizionate perfettamente).
In questo giardino c'è un senso di teatralità ma che non è riscontrabile attraverso una qualsiasi dettaglio. L'atmosfera del giardino, come in un qualsiasi giardino italiano rinascimentale non può essere  facilmente spiegata.
Fortunatamente in futuro Villa la Pietra aprirà le sue porte più frequentemente per consentire ad altri di provare un' emozione che non molti assoceranno alla topografia.
Per prenotare una visita al giardino di  Villa la Pietra visitate il sito della  NYU:
http://www.nyu.edu/global/lapietra/visitor.information