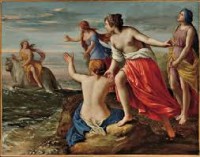 By Chelisse Perry (Lorenzo  de'Medici)
Open from February 11th until May 11th, the Galleria degli Uffizi is hosting a temporary exhibition on the baroque collection of the conductor Francesco Molinari Pradelli who was known as a connoisseur among antique dealers and art historians.
The first room is comprised of large blown up images of Molinari Pradelli and those who worked with him. They are displayed around the center of the room, and include images of Frederico Zeri, Carlo Volpe, Robert Longhi, and Mina Gregori, to name a few. The first room also includes copies of pages from the magazine "Paragone" that was founded by Longhi in 1950. One page in particular is an article about one of Molinari Pradelli's paintings he has in his collection.
The second room is about Molinari Pradelli's life as a conductor, including orchestra images and books in vitrines on opera's that he conducted. The third room, a very interesting room, is a mock of a living space. This room's focus is Sebastiano Ricci's Holy Family painted in 1708. This is Maestro Molinari Pradelli's most prized painting that he purchased from Frederick Mont in New York in 1969. It is considered to be one of Ricci's best-known works. The large oil painting presiding over the period couch is Giuseppe Bazzani's Allegory of Fertility painted between 1755-60. Accompanying the living space atmosphere is a Steinway & Sons grand piano, purchased in 1956 by Maestro Molinari Pradelli.
Subsequent rooms are comprised of vitrines filled with set designs for Molinari Pradelli's operas as well as opera posters and advertisements from the 1950's and 1960's. In one of the largest rooms of the exhibition, titled The heart of the Collection: Still Life, 23 still life paintings from Molinari Pradelli's collection line the walls. The wall text explains that the Maestro's collection gained universal renown by the early 1960's because of his substantial group of still lifes. Artists include Jacopo Chimenti (L'Empoli), Luca Forte, Neapolitan artists such as Giuseppe Recco, Baldassarre de Caro, and many others. Two smaller rooms that follow exhibit the Maestro's love of Baroque art and his collection of paintings by the Gandolfi brothers.
One of the most captivating rooms had stills and videos projected onto the walls of Molinar Pradelli's orchestra, theatres, and opera productions. Titled The Magic of Music, the exhibition includes in the background a beautiful classical musical score.
One of the final rooms shows Molinari Pradelli's love of Naples and of Neapolitan Baroque art. Titled Naples, the most Nobel City, has paintings by Luca Giordano, Francesco de Mura, and Giovanni Battista Rossi.
All in all, Maestro Molinari Pradelli's collection was vast and rich; filled with beautiful Italian Baroque paintings. The collection is second to none in exemplifying Baroque art. It shows that Molinari Pradelli had a wonderful love of both art and music.
The Uffizi has limited seating but the exhibit is extremely captivating and interesting for examining the life of this great maestro. The lighting is appropriate and the use of multimedia is a wonderful addition to an already rich collection.
The texts are in both English and Italian, and any ticket holder of the Uffizi receives a 50% off entrance to the Palazzo Strozzi's show for Pontormo e Rosso Fiorentino.
For more information please visit the website: http://www.polomuseale.firenze.it/mostre/mostra.php?t=52f3ae5ff1c3bcf402000001
Galleria degli Uffizi. La stanza delle muse. Dipinti barocchi dalla collezione di Francesco Molinari Pradelli
Chelisse Perry (Lorenzo de' Medici)
La Galleria degli Uffizi, dall'11 febbraio all'11 maggio, ospita una mostra temporanea dedicata alla collezione di dipinti barocchi del direttore d'orchestra Francesco Molinari Pradelli, conosciuto tra antiquari e storici dell'arte in quanto apprezzato conoscitore d'arte.
La prima sala è composta da gigantografie raffiguranti il maestro e coloro con cui intratteneva rapporti di lavoro e di amicizia, tra cui Federico Zeri, Carlo Volpe, Roberto Longhi e Mina Gregori, solo per nominarne alcuni. Si possono vedere anche riproduzioni di pagine tratte dalla rivista Paragone, fondata da Roberto Longhi nel 1950, tra cui l'articolo scritto da quest'ultimo a proposito di un dipinto della collezione di Molinari Pradelli.
La seconda sala è dedicata all'attività di direttore d'orchestra di Molinari Pradelli con fotografie dell'orchestra stessa e libri sulle opere teatrali da lui dirette. La terza sala, molto interessante, presenta la ricostruzione del salotto del maestro. L'attenzione del visitatore è catturata dalla Sacra Famiglia di Sebastiano Ricci, dipinta nel 1708; questa era l'opera preferita di Molinari Pradelli il quale la comprò, nel 1969, a New York da Frederick Mont. Sopra al divano è stata appesa l'Allegoria della fertilità di Giuseppe Bazzani, realizzata tra il 1755 e il 1760. Infine si può ammirare un Pianoforte che il maestro comprò nel 1956.
Le sale successive sono composte da vetrine che espongono bozzetti delle scenografie delle opere dirette dal maestro, con i relativi manifesti pubblicitari, dagli anni Cinquanta agli anni Sessanta.
Finalmente il visitatore accede alla sezione intitolata Il cuore della collezione: nature morte, dove si possono ammirare 23 nature morte provenienti dalla collezione del maestro. I pannelli esplicativi illustrano come questa raccolta avesse guadagnato una rinomanza internazionale fin dai primi anni Sessanta, annoverando opere di Jacopo da Empoli, Luca Forte e artisti napoletani come Giuseppe Recco, Baldassarre de Caro e molti altri. Infine, l'amore del maestro per l'arte barocca, è illustrato attraverso l'esposizione della sua raccolta di dipinti dei fratelli Gandolfi.
L'ultima sezione, una delle più interessanti, ospita foto e video dell'orchestra di Molinari Pradelli ed è intitolata La magia della musica; in sottofondo si possono ascoltare brani di musica classica.
L'ultima sala, Napoli, la più nobile delle città, mostra l'amore che Molinari Pradelli ebbe per Napoli e l'arte barocca della città con dipinti di Luca Giordano e Giovan Battista Rossi.
In conclusione la collezione di dipinti del maestro è ampia, ricca e piena di bei dipinti del periodo barocco italiano. L'esposizione riesce a comunicare al visitatore l'amore che il maestro dimostrò, durante la sua vita, per l'arte e la musica.
Lungo il percorso espositivo non sono presenti molte sedute ma la mostra è interessante e capace di catturare l'attenzione del pubblico. Le luci sono appropriate ed i mezzi multimediali sono sfruttati in modo efficacie.
I testi della mostra sono sia in italiano che in inglese e i visitatori ricevono uno sconto del 50% sul biglietto dell'esposizione di palazzo Strozzi Pontormo e Rosso Fiorentino. Divergenti vie della maniera.
Per maggiori informazioni visitare il sito:
http://www.polomuseale.firenze.it/mostre/mostra.php?t=52f3ae5ff1c3bcf402000001